Map co-ordinates to find us
Latitude is 51.617430 Longtitude is -4.253941 (Go to http://www.gorissen.info/Pierre/maps/googleMapLocationv3.php)
Geotagged geo:lat = 51.617430 geo:lon=-4.253941
RoboGeo Tags co-ordinates are 51.617430;-4.253941
Directions to MIDDLE COTTAGE, LLANMADOC, N. Gower, SA3 1DE
First note the location on the map below, of Llanmadoc (top left of map). Middle Cottage is right in the centre of the village of Llanmadoc.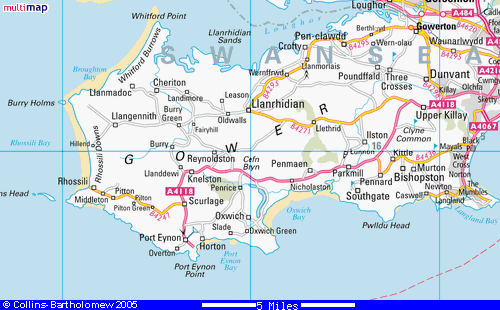 HOW TO GET THERE - MIDDLE COTTAGE, LLANMADOC
Take "Swansea West Services" Jcn 47 exit off M4. The slip-road takes you to a roundabout and a set of traffic lights above the M4.
At this large roundabout, take second exit and follow A483 following signs to "Swansea/Gower".
Then after a mile on same road, which starts flat but then descends downhill, and you come to a roundabout*. Take the second (i.e. right hand) exit (west direction) towards "Llanelli/Gower/Gowerton" onto the A484.
*NB: At this roundabout the road signs are confusing as they also direct traffic "to Gower avoiding low bridge" taking you towards Swansea via first [left] exit of roundabout. Ignore this and take second exit right, unless you want to visit the large TESCO extra or M&S Food stores at Fforestfach before going into Gower.
Proceed directly through the next roundabout. (2nd exit), passing "The Farm shop" which is on the same roundabout.
You should now start to see views of North Gower and Lougher Estuary. Still follow A484 and then at another roundabout half a mile later down the incline, take the first exit turn left towards Gowerton on B4296.
You then pass a Harvester restaurant. After driving underneath railway bridge, you come to lights at Gowerton some 20yds later after railway bridge. Take a right at lights, on B4295, signed to Llanrhidian. After a mini-roundabout Tesco Express is then on your left. (Its worth stocking up on provisions here – no particularly good shops other than Petrol Station and Post Office after this).
You are now on the "North Gower Road" or B4295 which you should follow for 6 miles or so, passing through Penclawdd, Crofty, Llanmorlais.
After Llanmorlais, and after another 2 miles, still on B4295, you arrive at Llanrhidian Petrol Station (Heronsway Filling Station).
Keep driving past the petrol station and you then enter Oldwalls Village, and the Greyhound public house is on your left. Just as you pass the pub, (ignore the Brown sign for the Britannia Inn which points left i.e. tells you to stay on the road) and instead FORK RIGHT towards Llanmadoc/Cheriton/Llandimore following signs for Weobley Castle, and pass Windmill Farm (on left) and pass Weobley Castle (on your right). You then by-pass Landimore. Keep on this single lane road and some 500 yds after Landimore you will turn left and down a steep dip into Cheriton Village past Cheriton Church (on your right). Pass down and back up the other side through Cheriton, and ascend the hill again up into Llanmadoc Village. Pass the church Hall (left) and pass the Britannia Inn (on your left). Keep on going up the hill. Around 200 yds after the Britannia Inn the gradient flattens out at the top, and you see a red phone box on your left. Middle Cottage is slightly to the left of the phone box right on Llanmadoc village green. The cottage has a grey slate sign to left of the cream/yellow front door. (We live in Gower cottage, immediately to the right of it with light blue front door, if you wish to announce your arrival. The key will be under the flower pot outside Middle Cottage front door - just get on with it and let yourself in. Put the key in and turn anti-clockwise one quarter turn!).
PARKING
Please park at the rear as a general rule. There is space for up to three of your cars in the rear driveway (gravel area at top of front garden). You can park for short periods at the front e.g. to unload, load up, etc. The local bus runs (arrives) once an hour onto the village green, from 7am until 11.30pm, daily, so we suggest that it is better to park at the rear in the daytime between these times, since parking at the front in the daytime tends to encourage others to do the same causing congestion for the bus which needs to turn.
FOOD OPTIONS - WHERE TO GO (SEE MAP AT TOP)
The local pub "The Britannia Inn" with very good a la carte restaurant & barmeals, is midway between Llanmadoc and Cheriton. Rack of lamb, Hake in batter, stupendous steak, Seabass, to die for belly pork are all typical menu options.
The red dot, which you should otherwise ignore, shows the location of another very good pub with excellent restaurant,
namely "The King Arthur Hotel", a 7 minute drive from Middle Cottage. Great specials board menu, including grilled Sole, belly pork, Monkfish, grilled Seabass, fillet of Welsh Black Beef in Rosemary Jus, or various other fish dishes, or (our favorite) of Cod or Hoki in lager batter with home made chips.
Half way to "The King Arthur Hotel" from Middle Cottage you will pass through Burry Green, at which is located Gower's acclaimed "Fairyhill Restaurant" - marked on the map, 4 mins drive from Middle Cottage. (Take your wallet, for a very special meal in beautiful surroundings - lunch is excellent value).
At the top of the large "L" in Llanrhidian is the precise location of the "Welcome to Town" Restaurant Bistro, 10 mins drive from Middle Cottage. Excellent local Welsh and European dishes, including cockles and laverbread, in a much cosier atmosphere (like dining in an old cottage - 10 tables only), and slightly cheaper than Fairyhill. Just east towards Wernffwrd on the may is Llanrhidian Caravan Park fish and chip shop, for Gower's finest fish and chips. Go for the Moby Dick.
SHOPS LOCALLY
Nearest is "OUR SHOP" the local village shop only a 30 second walk beside the cottage. Other shops exist (in order of fastest to get to) at Reynoldston Post Office, Llanrhidian Post Office (within Petrol Station), Knelston Petrol Station (always seems to be open) and Scurlage Post Office / shop (daytime), or Port Eynon.

Alternatively there are shops further away at CK's in Penclawdd (8 miles), or Tesco Express in Gowerton (10 miles).
NEAREST SUPERMARKET
This is CK's in Penclawdd. However if you want a traditional large mainstream retailer, go to Tescos or M&S Food in Fforestfach.
To get there, do everything in reverse but then rather than going to the M4, instead follow the A484 towards Swansea and soon after at Fforestfach, you will find TESCO Extra, M&S Food plus Dixons, Borders, Pizza Hut, Argos, Boots all found in a retail park at Fforestfach around a mile past the roundabout mentioned earlier in italics.
Other superstores Morrisons (Llansamlet Business Park), Asda (Llansamlet), two more Tescos (Swansea Marina and Llansamlet), Summerfields (Gorseinon) and various Lidl stores (Morriston, Ravenhill, Penllaergear) are found in other parts of Swansea